When deciding the best fonts for books, it only partially depends on what you truly desire. Preparing for an outstanding reading adventure and creating better exposure to book writing services is crucial. Word choice is only one aspect of writing that matters when engaging readers and creating a complete connection with them. Effective relationships may be made thanks to typography's careful combination of beauty and utility.
Combining aesthetically pleasing design with practical readability, fonts for books used in the content set the stage for the story. A well-researched font may help you emphasize the tale's context while ensuring every word flows easily off the page, resulting in a consistent blend that pleases and informs. We'll discover the typographic shades as we read more into this guide.
Suggested Read: How to Write a Book About Your Life
30+ Best Fonts for Books: A Curated Selection
Fresh and Trendy Book Fonts
Anko
Vanio
Slippery
Shallot
Addington CF
Quatera Italic
Osande TXT
Versina Family
Weist Havanah
Braveold Font Family
Zeit
Constructio Grotesk
Along Serif BSC Font Family
Caleb Grotesk Font Family
Agentic – Serif font family
JUST Sans® Clean Modern Minimal Geometric Typeface
Suggested Read: How to Create a Journal to Sell on Amazon KDP
Best Book Fonts for InDesign Publishing
Baskerville PT
Garamond Premier
Adobe Caslon
PS Fournier
Aria Text
Classica
Susan
Quatro
Adobe Jenson
Practical Serif
Most Popular and Time-Tested Fonts for Books
Garamond
Bembo
Bison
Caslon
Baskerville
Sabon
Understanding Font Terminology
Knowing the specific phrases and ideas associated with typography and fonts is necessary to comprehend font terminology. Designers, authors of WritersofUSA, and even regular users can speak about type precisely because of these phrases' understanding of fonts' design, structure, and application. Understanding these terms makes one more literate in the world of design and publishing, but it also assists in making informed decisions when selecting or discussing the best fonts for books.
Some essential font terminologies include:
Typeface vs. Font:
Although commonly used together, they have different meanings. A typeface is a design style or a collection of letters, whereas a font is a specific weight, width, and type of typeface (for instance, Times New Roman Bold Italic).
Serif vs. Sans Serif:
Serifs are small lines or extensions at the end of letters. Serif fonts, like Times New Roman, have these lines. Sans Serif (sans means "without" in French) fonts, like Arial or Helvetica, do not.
Weight:
This refers to the thickness of the characters. Standard weights include light, regular, medium, bold, and black.
Kerning:
The adjustment of space between two characters. Proper kerning ensures that the spacing between letters is visually consistent.
Leading:
Pronounced, "leading" refers to the vertical space between lines of text. Adjusting leading can affect the text's readability.
Tracking:
This term refers to the character spacing within a word, sentence, or paragraph.
X-height:
The height of lowercase letters, excluding ascenders and descenders (for example, the height of the letter 'x').
Ascender & Descender:
Ascenders are the parts of a letter that rise above the x-height (like the top of the letter 'h'), while descenders are the parts that drop below the baseline (like the bottom of the letter 'y').
Baseline:
The line on which characters sit. It's the reference line for character alignment.
Ligature:
A unique character that combines two (or more) characters into one. For example, the combination of 'f' and 'i' in some fonts creates a single character ligature.
Glyph:
A specific form of a character in a particular font. It can be a letter, number, punctuation mark, or ligature.
Suggested Read: How To Write A Short Memoir
Factors Determining Suitability For Best Fonts For Books Writing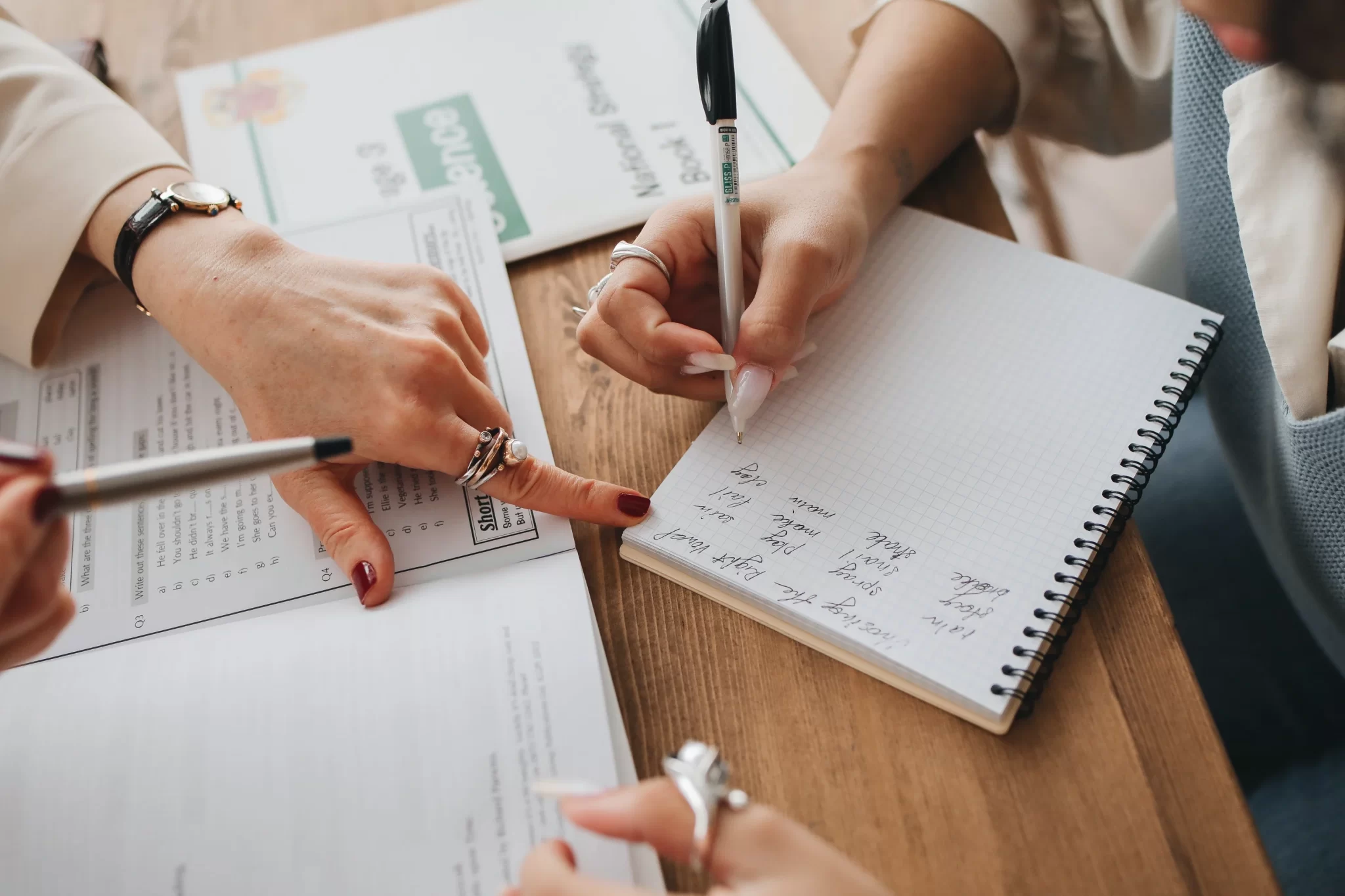 Several variables can determine the suitability of fonts used in book publication. It takes skill to select the distinctive typeface for a book. It involves comprehending the value of typography and how it can accommodate reading preferences and human psychology. These elements can significantly impact whether the writing is fair, readable, aesthetically beautiful, and relevant. Following is a discussion of some critical aspects in deciding the best fonts for a book:
Ease Of Reading And Clarity:
Ease of Reading
This part concentrates on how to help your viewers read a substantial amount of the text without getting eye fatigue. Line spacing and general arrangement are two factors that affect reading.
Clarity
This refers to the design elements of individual letters. Each letter should be easily differentiable from another, making the text straightforward to understand at a glance.
Types Of Fonts:
Serif Fonts
These fonts, known for the little, decorative strokes (serifs) at the end of each letter, are frequently used for body text in books because they help the reader's eyes follow the text and break up long stretches.
Sans Serif Fonts
These fonts are often used for shorter text parts like headings or captions because they do not have the extra strokes of serif fonts.
Weight And Style Of The Font:
Weight
The thickness of the characters in the font can impact how easily the text is read. Best fonts for books that are too light might become illegible, particularly in dim lighting.
Style
Using italics or bold can enhance your text, but should be applied sparingly. Overuse can reduce readability.
Size of Lowercase Letters (X-height):
A font with a larger x-height, or the height of its lowercase letters, is generally easier to read, especially when the font size is smaller.
Spacing Between Characters and Words (Kerning and Tracking):
Decent spacing between individual letters (kerning) and groups of letters (tracking) helps the text flow naturally, making it easier on the eyes.
Design Consistency:
To create a uniform appearance across your book, pick a font family that delivers a consistent design in many italic, bold, and other styles.
Alignment with Content's Mood and Theme:
Your font should align with your book's overall mood or theme. For example, a playful font could be ideal for a children's book, whereas academic work might require something more formal.
Historical and Cultural Considerations:
Some fonts have historical or cultural significance that can complement or clash with the theme of your book, so decide wisely.
Print and Digital Compatibility:
Ensure the font looks good in print and digital formats. Some fonts that look crisp on a screen need more clarity when printed.
Legal and Licensing Aspects:
Always check the licensing terms of a font, especially if you're planning to sell your book. Make sure you have the right to use it commercially.
Originality and Overuse:
While classic fonts are timeless, opting for an overused font can make your book appear generic. Striking a balance between what's familiar and what's fresh is essential.
Support for Special Characters:
If your book includes special characters, foreign languages, or unique symbols, verify that the chosen font supports them.
Cross-Platform Consistency:
Particularly important for eBooks, the chosen font should display consistently across different devices and screen sizes.
The Science Behind Readable And Best Fonts For Books:
Have you ever questioned why some novels are so easy to understand and read smoothly, while others make you feel like you are navigating a situation? The art and science of book typefaces are frequently the secret; they are an unsung hero who could make or ruin your reading experience. Let's look at this unseen art to see how the science of readable typefaces may significantly improve reading comfort and pleasure.
Letter Spacing and Size:
Kerning and leading are like dance partners that help your text move smoothly across the page. Kerning is the space between each letter. Think of it as conversing with two people who are too close or far apart in a room. The leading, or opening, between lines facilitates fast eye movement from one line to the next. Dancers need enough space to perform their steps without bumping into each other. When kerning and leading are just right, reading becomes a breeze, like a perfectly coordinated dance. So, they play a significant role in making your reading experience enjoyable and comfortable.
Serifs' Role:
Serifs are tiny decorative strokes at the ends of a letter in a font. They may seem insignificant, but they're the traffic cops of the typography world, guiding your eyes smoothly from one note to the next. Serifs are particularly beneficial for long reads; they pull the text together, creating a cohesive flow that naturally guides your eyes across lines of text. Consider serifs as little breadcrumbs that effortlessly help you through a textual forest.
Height and Thickness of Letters:
Finding the ideal size and thickness of letters in popular book fonts is like aiming for the "Goldilocks Zone"—not too hot or cold, but just right. Too-thin notes might appear faint and fragile, requiring you to squint, especially in dim lighting.
Overly thick letters can seem too bold and overwhelming, screaming for attention rather than gently conveying their message.
Similarly, if the height (often referred to as 'x-height') of the lowercase letters is too small, the text can become cramped and challenging to read, with significantly more petite sizes. The right balance in height and thickness contributes to a font's readability, ensuring the text is inviting and accessible.
Popular Book Fonts: Mixing Tradition and Modernity
Have you ever picked up a book and felt instantly at home with the text? That's the magic of a good book font! When creating that perfect reading vibe, specific fonts have stood the test of time, while others are newcomers who are stealing the spotlight. Let's get familiar with some of the best fonts for books and find out what makes them everyone's go-to choice for book publishing.
The Time-Tested Classics: Garamond, Caslon, and Palatino
| | | | |
| --- | --- | --- | --- |
| Feature | Garamond | Caslon | Palatino |
| Historical Report | Originated in the 16th century by Parisian engraver Claude Garamond. Has a timeless, classic vibe. | Created by William Caslon in the 18th century. As British as tea and crumpets, and used for the U.S. Declaration of Independence. | This Italian charmer came onto the scene in 1949 and was initially designed for headers but works well in paragraphs, too. |
| Vibe: | Like a friendly chat with your wise grandparent. | Serious and academic, with a warm touch. | Its rounded letters make for smooth reading. |
| Pros: | Super readable and elegant. It's like the 'little black dress' of fonts; it never goes out of style. | Versatile and lends an air of importance. Ideal for academic or historical books. | Rounded letters make for smooth reading and look great in print and digital formats. |
| Cons: | Its historic feel might not suit futuristic or modern-themed books. | It's a bit 'serious,' so it may not be the best choice for a children's picture book. | It is so popular that using it might make your book blend in rather than stand out. |
New Favorites: Minion, Jenson, and More.
| | | |
| --- | --- | --- |
| Feature | Minion | Jenson |
| The Lowdown | Created in 1990 for Adobe, Minion is like the hip cousin of traditional fonts. | Despite its relatively recent creation, Jenson takes inspiration from a text cut by Nicolas Jenson in the 15th century. |
| Vibe | Like the calm, younger sibling of the classic fonts. | It's the 'old soul' among newer fonts. |
| Pros: | Highly readable and modern. | Extremely readable and adds a touch of sophistication without making your book look dated. |
| Cons | Its 'modern' flair might not fit a book aiming for a 'retro' or 'vintage' atmosphere. | Its distinctive look might not fit all genres; it is probably not the best choice for high-tech sci-fi. |
Making the Right Choice for Different Parts of the Book
Choosing the best book fonts involves more than simply the main text. Chapter titles and sidebars are a few of a book's many components that may use some typeface emotion. While deciding the right fonts can seem minor, these details lift an excellent book to great status. The right font may help each section of your text stand out and convey its intended meaning. Everything should be in balance, pleasing to the eye, and consistent with the tone of your work. Let's examine the ideal fonts for your book's various sections.
Body Text:
Why Serifs Usually Win
When it comes to the body text, serifs are often the go-to choice. Why? These tiny decorative strokes help guide the reader's eyes from one word to the next, making it less tiring to read long passages.
Popular Book Fonts to Consider
The classics like Garamond and Caslon are always safe bets. For something modern yet readable, Minion is a popular choice.
Headings and Chapter Titles:
Headings and chapter titles are your chance to get creative. Sans-serif fonts, lacking little decorative strokes, make these sections stand out and offer a break from the long paragraphs.
Creative Alternatives
You can also consider decorative or script fonts, but tread lightly—these should be easy to read and not distract from the content.
Fonts to Consider
Helvetica for a clean, modern look, or Baskerville if you're after something more traditional but want to shake things up from the body text.
Special Sections:
Sidebars and Call-outs
These are areas where you might offer additional information or highlight quotes. Here, it's okay to deviate a bit from your main font choices to attract attention.
Footnotes
Footnotes should be readable but not overly attention-getting to reduce concentration from the main content. Here, a smaller size of your body text's font works well.
Fonts to Consider
Consider a lighter-weight of your header font for sidebars. Consider sticking to your body text font but scaling it down a notch in size for footnotes.
Considering the Book Font's Message and Tone
Matching the Best Fonts For Book's Genre and Emotional Tone.
Choosing the ideal typeface must complement the environment and serve the intended purposes. When writing a thriller, you might use a typeface that ups the suspense, whereas a romance story might call for something more opulent and welcoming. The secret is pinpointing your story's core message before picking the best book fonts.
Common Mistakes:
Have you ever seen someone whose clothing was inappropriate for the setting? It's uncomfortable and sticks out in the wrong way. Book fonts are no different. Using a comical typeface for a severe academic paper can annoy the reader and damage the document's credibility. Similarly, young readers might not be drawn to a children's tale with a stiff, formal font. So avoid these typical mistakes and ensure the font is appropriate for the text.
Case Studies: Successful Pairings
Harry Potter Series:
The book fonts are usually customized, perfectly balancing the series' magical and adventurous tone.
To Kill a Mockingbird:
Opting for a classic serif font complements the book's historical setting and serious social commentary.
Eat, Pray, Love:
This memoir about self-discovery uses a casual yet elegant font, mimicking the author's journey through different cultures and emotions.
Exploring and Testing The Best Book Fonts
Using Online Platforms like MyFonts.com
In the digital age, you don't have to be a typographer to explore a wide range of the best fonts for books. Platforms like MyFonts.com offer a playground for authors and designers alike.
Here, you can search, preview, and even test fonts within your sample text to get a real-time sense of how it will look in your book. It's like a dressing room for your words—try before you buy.
The Importance of Producing Sample Pages
The same logic applies to selecting the best fonts for books. Producing sample pages allows you to see how the font fares in real-world conditions—how it handles long paragraphs, how readable it is at different sizes, or how it looks when paired with other fonts for headings and subheadings. This step is crucial for avoiding unpleasant surprises later in the publishing process.
Suggested Read: How Much Does It Cost To Publish A Book?
Risks and Considerations of Using Free Fonts Used In Books
Free fonts may appeal, but precede it with caution. First, many complimentary styles have restricted licensing, so using them in a book or other commercial enterprise could be against the law. Second, you run the danger of reducing the professionalism of your work because free font quality might vary widely. Finally, free fonts might provide a partial range of styles and weights, limiting your possibilities for using them in various parts of your book.
Purchasing and Implementing Best Fonts For Books
Legalities and Avoiding Pitfalls with Free Fonts
The attraction of free fonts is undeniable, but it's essential to pace cautiously in these waters. Always check the licensing conditions. Free only sometimes means you can do anything with it, especially if your book is a commercial project. Skipping this step could land you in legal trouble, not to mention potentially tarnishing your reputation. If you opt for a free font, ensure it's from a reputable source and review its licensing terms meticulously.
Understanding What You Need to Buy
A font family is more than just the basic style you initially love. It includes variations like bold, italic, semi-bold, and sometimes more exotic members like 'extra bold' or 'light italic.' You'll usually be able to buy the entire family or just specific styles when purchasing. If you anticipate using different weights and techniques for various parts of your book—headings, subheadings, body text, captions, etc.—then buying the whole family is often more economical and ensures stylistic consistency.
Tools and Software for Typesetting
While Microsoft Word is readily available and may suffice for fundamental projects, it's not ideal for professional typesetting. Specialized software like Adobe InDesign offers far more control over elements like kerning, tracking, and leading, which are vital for optimal readability. These programs also make it easier to implement your chosen font accurately, respecting all its nuances and characteristics.
Conclusion
The choice of style for your book is not merely a minor detail; it is a vital consideration that can either enhance or detract from the reading experience. A carefully chosen best fonts for books can smoothly lead the reader through your pages, but a poor selection can instantly break the flow. It's not only about aesthetics; it's about facilitating a smooth reading experience.
So, always put your reader's comfort first. Think of them as guests in your literary home; you want to make their stay enjoyable. Keep an eye on emerging trends and new fonts that come onto the market. Typography constantly evolves, and staying updated means always offering your readers the best.
FAQ's
Which font style is best for books?
The best font style for books typically depends on the genre and format, but Garamond and Baskerville are widely considered excellent choices for readability and classic appeal in printed works. Serif fonts are generally preferred for extended text.
What fonts do book writers use?
Book writers commonly use serif fonts like Garamond, Baskerville, and Caslon for the body text due to their readability and classic appearance. For headings, sans-serif fonts like Helvetica or Arial are often used.
What font is best for book titles?
For book titles, bold and impactful fonts are typically chosen to grab attention. Sans-serif fonts like Helvetica, Arial, or Future are popular choices.
What is the best font and size for a book?
The best font for a book's body text is typically a serif font, such as Garamond, Times New Roman, or Baskerville, set at a size of 11 or 12 points.